Toasterball (Prototype)
New version now on Steam!
This is an early prototype of Toasterball, a multiplayer sports game with kitchen equipment and lots of toasted bread.
A new version of the game is now in early access on Steam, for 5.99$! It has 4 player gameplay, 15 toasters to choose from, tons of variants and even more to come, check it out right now!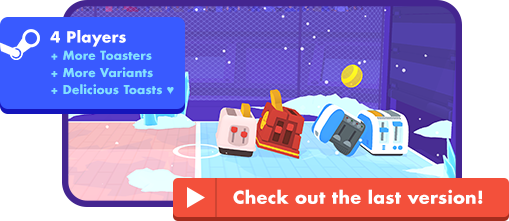 A soon as the game is complete, we will also release it on itch.io for the same price, and other platforms too!
https://store.steampowered.com/app/1142810/Toasterball/
About Us : Couch Game Crafters
We are three buddies from France, with a passion for the craft of game-making.
We love jokingly coming up with ridiculous ideas, and actually figure out ways to turn them into fun games, weird videos or any type of artistic oddities.
If you are a game developper too, you might know us from the short instructional GIFs we like to post on Twitter and Facebook.
Download
Download
Toasterball Demo - Windows.zip
28 MB